API Integration
Our API integration services help you integrate data with third party applications. We can also consume data from a wide range of third party sources. In addition to diverse domains such as shipping, payment, travel and social media, Wingherry has a lot of experience working with demand side platforms that integrate popular online advertising network APIs including Google AdWords and Bing Ads.
Nowadays many API are available to do businesses. People can do business by just buying the API from the service provider and can just start the business immediately. API providers open many new areas of business. It's a kind of business where the investors don't need to invest in the core business but just need to pay for the API and got his earnings in the form of percentages. Wingherry Technologies have a very vast experience in integrating various kinds of APIs. Our programmers have immense expertise in integrating various kinds API, for different kind of websites, mobile apps and platforms. Rational Technologies delivers excellent
Online Bus Ticket Booking API integration solutions which start from interface designing to complete integration of the API to the application. Our knowledge and expertise makes us one of the best API integration company in Hyderabad India. We are a 100 percent solution for any kind of API integration.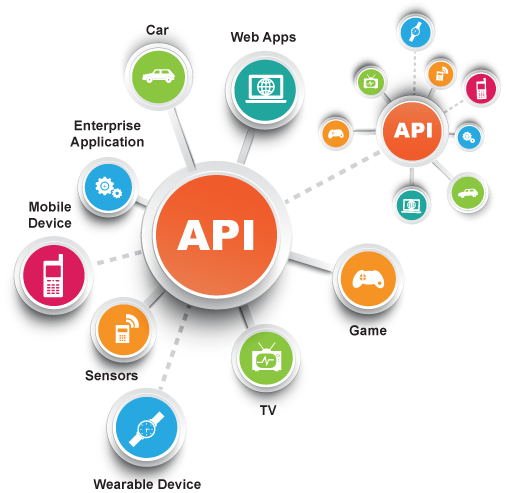 Our
API

Services
Demand side platforms that integrate with online advertising networks such as Google AdWords and Bing Ads
Social media API such as Twitter, Facebook, Google +
Facebook applications
Google APIs including Maps, Analytics, YouTube, Charts and Search
SMS gateway integration
Online SaaS applications such as Salesforce.com
Travel APIs such as Expedia and Amadeus
Shipping API integration services such as FedEx, UPS, US Postal Service
Payment gateway integration such as PayPal, DirectDebit, Authorize.net
From dashboards that centralize data from multiple sources to leveraging third party applications, we provide you a wide range of API integration services. Our extensive experience with APIs across domains helps ensure the design and delivery of the most appropriate solutions that support your business needs. To find out how we can help your business leverage third party APIs, discuss your requirements with our sales team today.